One-to-one coaching Live: Let's be honest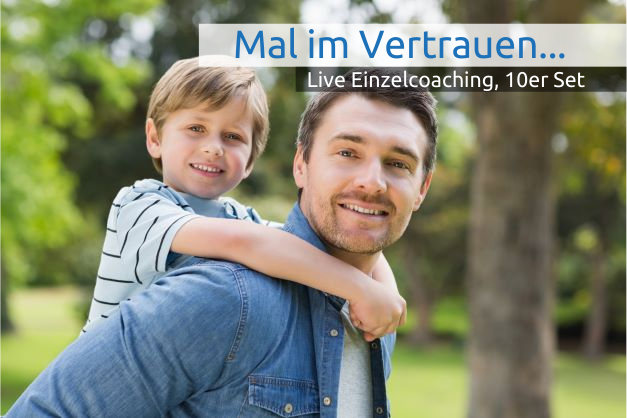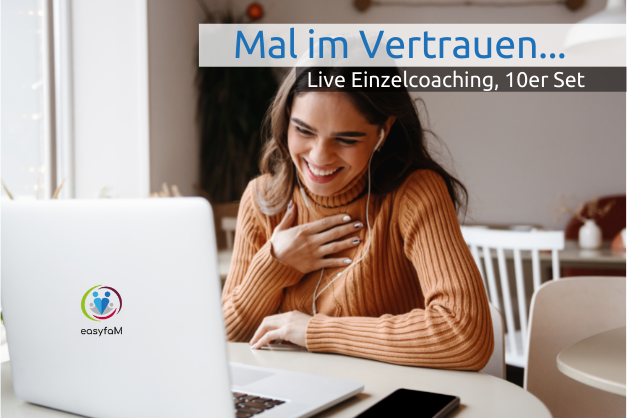 One-to-one coaching Live: Let's be honest
Ten One-to-one coachings, live: Let's be honest.
You and one of our experts in a confidential one-to-one conversation. We give your challenges plenty of space and develop a reliable way to improve your family and work situation, your family situation or your wishes for the children. In certain cases, we bring in specialists from our large network of coaches to ensure that together we find the right, effective solution for you.
These services are included:
10 appointments of max. 90 minutes each
Duration max. 10 months
Flexible scheduling
Complete access to easyfaM Online Parent Training
Bookable after personal call
Please note that this is not a personal 1:1 intensive support over 12 months, because it focuses on the detailed individual appointments and the accompanying parent online training. We reserve the right to accept your order until we have had a chance to get to know each other. We want to make sure that we can help you effectively. Call or write us to arrange a short meeting: christian (at) easyfam.com or Tel. (+49) 08381-8307101. Let's go!
Diese Services sind im Gesamtpreis (3.990,--) enthalten:
10 Termine à max. 90 Minuten
Laufzeit 10 Monate
Flexible Terminwahl und Coach-Auswahl
Komplettzugang easyfaM Online-Elterntraining
Buchbar nach persönlichem Gespräch
Abgebucht wird der Gesamtpreis für 10 Monate
Ratenzahlung auf Anfrage 
Diese Begleitung fokussiert sich auf die ausführlichen Einzeltermine und das begleitende Eltern-Onlinetraining. Wir behalten uns die Annahme Deiner Bestellung vor, bis wir uns kennenlernen konnten. Wir wollen sicher sein, dass wir Dir wirksam helfen können. Ruf kurz an oder schreibe uns, um das kurze Kennenlernen zu verabreden: christian (at) easyfam.com oder Tel. (+49) 08381-8307101.