easyfaM Challenge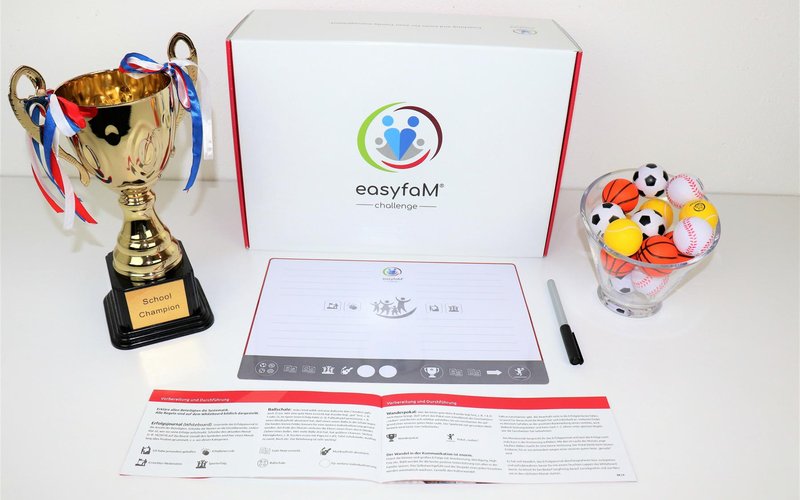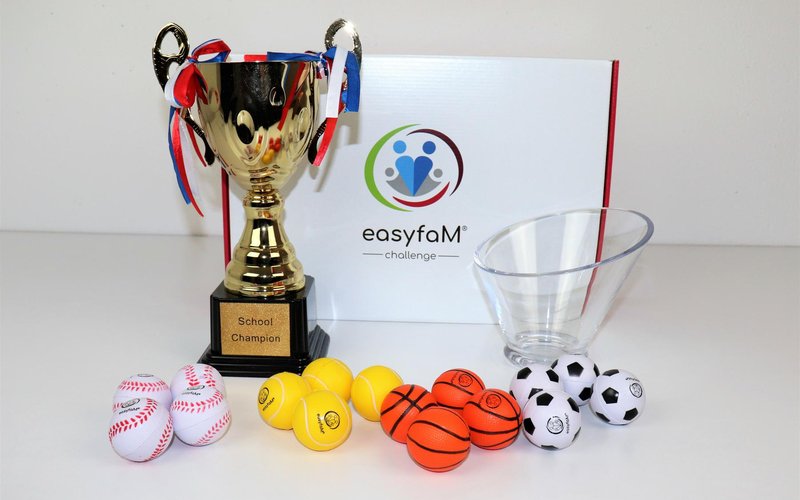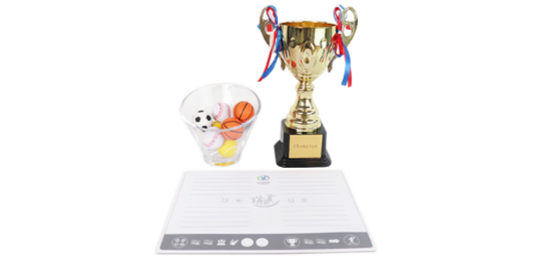 easyfaM Challenge
Celebrate success, for more self-motivation. Playful competition for better performance.
The challenge generates a lot of self-motivation, so that parents usually no longer have to argue about learning behaviour. With the magnetic luck and success journal, families perceive the small daily successes. Children love ball bowls and trophies because they want to playfully compete with others. For every good performance, the children collect a ball in the bowl. At the end of the month you raffle off a small prize. Who brings the last good mark home, robs immediately the cup and places it for all visible with itself. For families with children from 9 years.
---
incl. VAT, plus shipping costs
delivery time: 1-2 days.
The easyfaM Challenge is a lot of fun for pupils. Imagine how the siblings encourage each other to get better marks, how they proudly present themselves with the stolen trophy for the youngest good mark and how they see their number of successes grow through the clearly visible number of balls in their bowls.
The success journal is a magnetic whiteboard that can be attached to the fridge, for example. Write down all the positives of the parents and children, e.g. if Daddy has achieved a good workshop result at work, or if your son was praised at school, if your daughter had a good tennis game, etc., then write down the results. Give the person who had the success a "High Five", all of them! The change in communication is enormous. You will feel the broad positive support of everyone in the family. Self-esteem and respect will grow. Enjoy the cultural change!
Product information
Features and according items:

1x Family success diary (magnetic whiteboard)
1x Trophy: Last best mark steals the trophy
4x4 balls: Select your anti-stress ball type
1x bowl: Drop your ball for each success in the bowl

Monthly, parents raffle a prize, via blind draw from the balls bowl
A tool set for pupils recommended age 9 years onwards
Languages: German, English
Contents:

1x full color manual
1x bowl, material polycarbonat, almost unbreakable, 17 x 13 cm
1x metal trophy, colored gold, gold foil label on plastic plinth front, H 28 x W 17 cm
16x anti-stress balls: 4x baseballs, 4x tennis balls, 4x basketballs, 4x footballs. Diameter 40mm. PU-foam. Balls are compliant to EN 71.
1x magnetic whiteboard DIN A 4 ((210 x 297 mm, thickness 0,6mm), with color print for personalised text fiels. Shows all rules for the Challenge set on the whiteboard (whiteboard, balls bowl, trophy)
1x non-permanent marker for writing on the whiteboard

Warning: This tool is not a toy. Not suitable for children under 6 years! Small parts – danger of choking.