easyfaM Race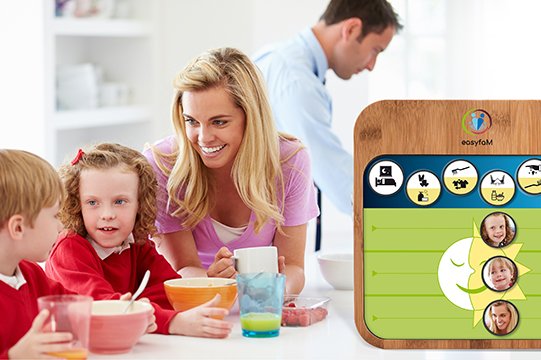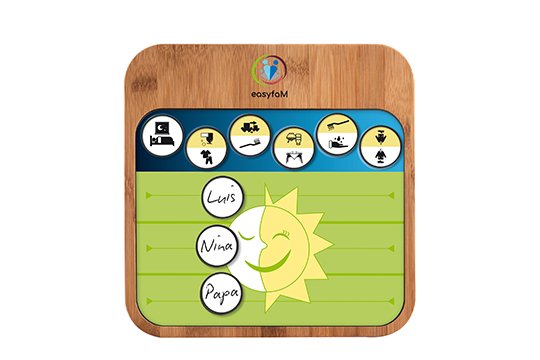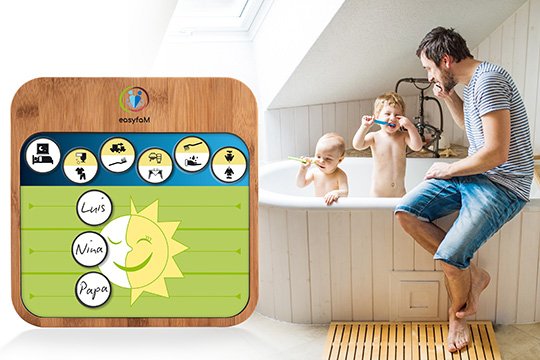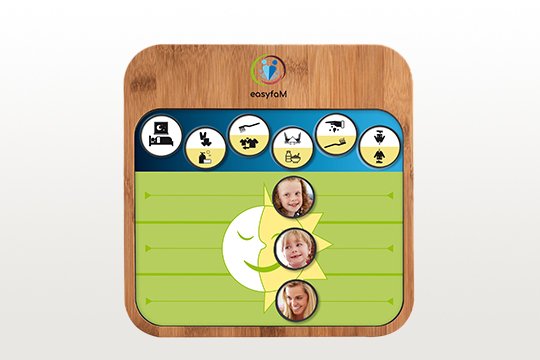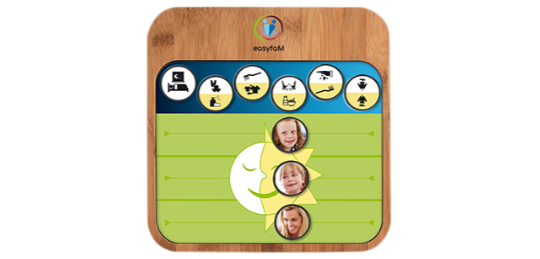 easyfaM Race
In the most critical phases of the day, we want harmony, independence and punctuality: when we leave the house morning and go to bed evening. The Race guides children playfully and independently through the morning and evening routines. With great fun they move their magnet coin from task to task. Parents set the order with the customizable magnet coins. If resistance would arise, then compete lovingly against each other: Who is first at the breakfast table today? Enjoy getting out of the house on time in the morning and into bed harmoniously in the evening.
---
incl. VAT, plus shipping costs
delivery time: 1-2 days.
Children love the "brain candies", the visualized steps. The gentle competition character improves speed and fun. Routines are very important for children because they provide security, orientation and serenity. With this safety, they have more energy for their own development. Rules are more likely to be accepted. They have more confidence in the important things in life.
A common example: If there are arguments about the choice of clothes for example, the parents should play in the race and focus on the "race" itself. The desire to win will usually make the previous problem disappear. Let the children win well. This has a positive effect on the future behaviour. Grant yourself a high-five with the children when you leave the house on time, and don't forget to praise them.
In general, routines are extremely important for children. They tend to accept rules more likely and have more confidence for the important things in life. This effect is fundamentally important in a faster changing environment in the future.
Effective principles of the easyfaM® Race:
Game Theory: States that children learn faster and easier if playfully and without pressure.
Visibility: Children love it when their progress is made visible and they are praised for it. 
Competition: Sometimes it becomes a little competition who finishes earlier, also with the parents.
Independence: children love it.
Repeats: children love it.
Pride: Everybody moves forward one field proudly with his progress marker after completing his task.
Transparency: You no longer have to question, but can see the status of all children at a glance.
Simplicity: You don't have to insist on every single step anymore, you just have to remind of the board.
Enthusiasm: Try it! You will be amazed how enthusiastic the children are from the start.
Appreciation: Every praise of the parents intensifies positive. What you achieve together strengthens family ties, esteem and team spirit.
Product information
Recommended for families with kids aged 3 - 9
Languages: German, English
Contents:

1 storage board with stand and connecting screws
Full label sheets with 20 half-circle symbol labels, 20 half-circle empty labels and 10 white labels
9 black magnet coins, later to be covered with stickers according to your routines

Product dimensions: Race Board approx. width 26 x height 26 x Depth 1 cm with foot depth 4 cm
Article weight: approx. 980g
Packaging size: approx. 28.5 cm x 27.5 cm x 5 cm
Assembly required: Yes, screw foot to board and individualize coins with selected symbol labels to your family needs
Main materials: Bamboo wood, a fast-growing renewable material, which is usually grown without fertilizers and pesticides due to its high robustness. It is very hard, dense and at the same time flexible enough for many years of use by families. The woods, varnishes and glues were randomly tested for toxins and heavy metals. None of them could be detected.
Packaging: Plastic-free, to protect the environment.
Warning: This process tool is not a toy. Not suitable for children under 3 years! Small parts – danger of choking!