About us
The easyfaM founders Heidi and Christian Eineder introduce modern management, agile and organization methods from the business world to the family world. As working parents of two sons, they provide valuable guidance for the "flow " of everyday family life with their easyfaM tools and coaching videos. The methods offer orientation, clarity and structure to children and parents. easyfaM is a lot of fun and gives "wow" moments. Routine processes that are fun for the whole family and also impart important basics for life - that is the philosophy of easyfaM.
---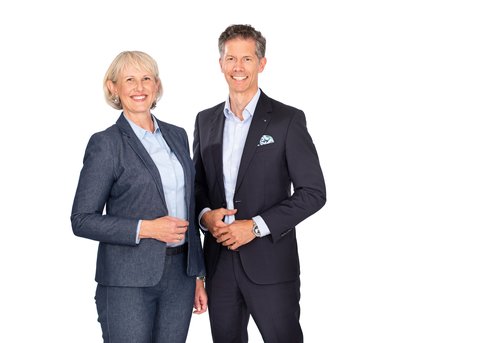 The Founders
Heidi and Christian Eineder are parents of two sons, Luis and Leif. Heidis career has been the executive leadership role for lean management, lessons learnt and quality management in an international group. She has been working part-time, so that there is still time left for the family. Christian was the managing director of a school and laboratory furnisher group and knows the education systems and family situation in many countries. Since 2012 he has been a renowned speaker at international educational and family events in Europe, Asia and America, and fully fully focuses on easyfaM since mid of 2018.
"The two sons are the most wonderful present we got. For approximately 10 years, we hosted male and female Au Pairs from 10 different countries. We were soon facing problems with managing a bigger household besides kids and jobs. Therefore, we invented tools and boards with self-organizing automatisms, so that the time besides our careers was high-quality time, that we spend as a family."
History - The Making of...
"From our own needs, we first of all adapted the agile management methods for our family in a child-oriented and understandable way. This worked out great, relieved our workload, and was enthusiastically torn from our hands by our friends. The idea was born to support as many families as possible with the tools under the easyfaM brand", Christian Eineder describes the beginnings of the development of easyfaM.
Our message: Dear parents, you are not alone! 
The easyfaM tools and videos contain many methods that relieve everyday family life, give children routine and give them cool playful techniques for life. Fairness, communication, motivation and fun are the main focus. easyfaM brings parents into the loving leadership role naturally: Leadership with a big shot of love is the motto.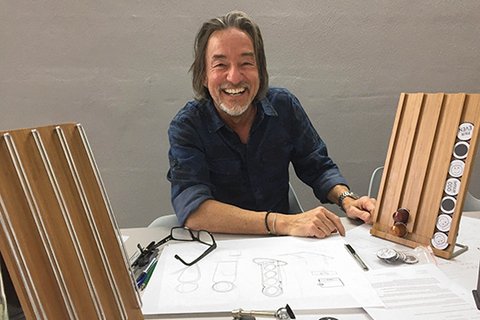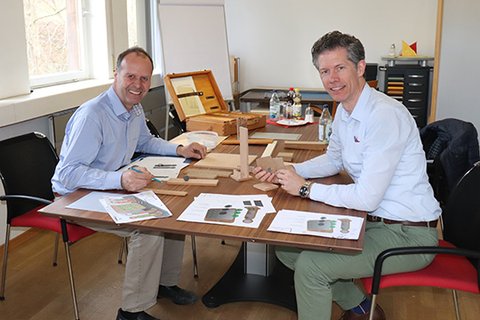 More fairness - also in the manufacture of easyfaM® products
The ideas and prototype developments have been conducted with the Ravensburg product designer Stephan Leitl (designBOX, left picture) and the carpenter Kurt Buhmann (Buhmann GmbH, Wangen, right picture). Their great input has been put into series production since August 2018. Bamboo is the main material. It is a fast-growing, ecologically reasonable raw material that has a beautiful look and feel and is perfect for the products. In addition, easyfaM attaches great importance to plastic-free packaging in order to protect the environment.
Fair cooperation plays a decisive role in production conditions as well. Christian Eineder searched internationally for suitable manufacturers, compared conditions worldwide with personal audits. "Domestic manufacturers or, for example, the Lebenshilfe Werkstätten were right at the top of our partner list. The challenge is to offer easyfaM products at a price that every family can afford well and willingly, while guaranteeing top product quality under fair working conditions," explains Christian Eineder.
He followed a recommendation from a toy manufacturer friend and audited a Chinese production site: "Very well process-controlled production, good daylight everywhere, extraction systems and mouthguards where lacquers are used, multiple quality controls, etc.". The materials are tested by a well-known laboratory, and they are free of toxins and heavy metals. We are very happy to have found this experienced partner".
What experts say
Dr. med. Nienske Peters, Pediatrician & Youth Physician, Bern
"As a pediatrician, I greatly appreciate this diverse, differentiated website. The videos and materials are directly applicable in the pediatric practice as well as in the family. They also motivate the children to participate directly. I can highly recommend the website including materials for every family and professionals working with families". Competence profile.
Bruce Feiler, Agile programming -- for your family: To deal with the stress of modern family life, go agile. Inspired by agile software programming, Feiler introduces family practices which encourage flexibility, bottom-up idea flow, constant feedback and accountability. 
Dr. Stephanie Robben-Beyer: Parents are the better leaders  
Professor Dr. mult. Wassilios Fthenakis: Gamification of learning is a megatrend
Prof. Dr. Fthenakis drafts family policy concepts for governments and is an expert for the Federal Constitutional Court on questions of child law. He ran the state institute for early education and family education, is member of 20 scientific organizations worldwide and since 2006 president of the Didacta Association of the Education Industry. Christian Eineder met this personality in order to align on the easyfaM routines and methods. Prof. Dr. Fthenakis provided very good input and gave great feedback on the easyfaM methods and routines. We agreed that there has been no training like this for families and training. So, it looks like the easyfaM approach is exactly correct. Christian found it amazing and a fantastic confirmation for the easyfaM work so far, that gamification will play such a huge role in the future, according to Prof. Dr. Fthenakis. easyfaM uses lots of playlike methods and tools. Competence profile.
News
14 September 2020
Christian Eineder now XING insider
---
Christian Eineder has been selected by XING as one of the exclusive XING Insiders to share his expert industry knowledge with network members and provide them with personal insights into his specialist topics.
14 September 2020
ADHD Germany e.V. recommendation for easyfaM
---
The positive review of the Attention deficit / hyperactivity disorder (ADHD) Germany Association recommends easyfaM products for theire families. The material is versatile and well composed.
29 June 2020
BVMW partnership with easyfaM as partner of the medium-sized businesses
---
For employers who need more flexibility in the global competitive environment of the VUKA world and feel the need for flexibility from their employees. easyfaM supports small and medium-sized companies in how they can easily give their employees skill, trust and time, achieve 20% more performance with the same workforce within 6 months and become one of the most family-friendly employers in their region.
This is what our customers say
The Taskboard got our teenagers back to collaborative housework, awesome! Generated a very positive communication culture! Gabi & Reinhold M., Lindau
So grateful for the change in behavior and respect among us! Won lots of time, got rid of most arguments. Great how adjustable to our needs it is! Mia & Phil L., Munich
Even our 5-year old son became much more self-reliant. Daily and weekly tasks are easy now, much happier! We have fun and way more harmony. Veronika & Tobi S. Regensburg
Much less quarrels and discussions with our 3 kids. Tasks are completed faster, more time for everyone! The former feeling of injustice is gone, great! Kirsten & Lutz M., Lindenberg
Great relieve by means of easyfaM learning techniques. Most efficient for all kids is the 5S-desk optimising! Arthur & Éva S., Geneva
Much better now helping each other without quarrels. So fair, simple and efficient. Peter and Margret Z., Dachau

Who'd have thought that my husband and the kids share all housework with me fairly. Great change, thanks! Melina and Luis R., Zuerich

We use the Taskboard with 8 persons. Wonderful, how it organises bigger workloads in teams, by itself! Gregor and Petra S., Salzburg

We use the Race with the 3 younger kids. Lots of fun, much faster in the mornings and often in time :-) Great tool! Gregor and Petra S., Salzburg
Customers recruit customers
If you want to do something good for friends and acquaintances, tell them about your journey and discovery. In this way you help us to realize our deep wish to relieve every family with effective methods and to improve their family life. In case you want to work with easyfaM professionally, please contact us and get to know more about the partner and affiliate programme at info@easyfam.com. There are many ways, for example if you meet other mummies for a weekly coffee, introduce them to what you discovered. If you work at a kindergarten or school and want to do something good to the kids and parents, go ahead with your recommendations. We look forward to getting to know you soon!