28 November 2018
Meeting and alignment with Prof. Dr. Fthenakis
Munich, 22.11.2018: Christian Eineder from easyfaM met Professor Dr. mult. Wassilios Fthenakis. Whoever deals with early education and family education inevitably comes across Wassilios E. Fthenakis. In Germany, the native Greek is a sought-after political advisor. 
---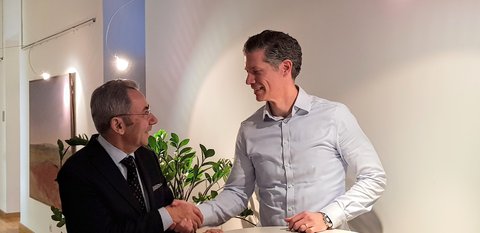 Prof. Dr. Fthenakis drafts family policy concepts for governments and is an expert for the Federal Constitutional Court on questions of child law. He ran the state institute for early education and family education, is member of 20 scientific organizations worldwide and since 2006 president of the Didacta Association of the Education Industry.
Christian met this personality in order to align on the easyfaM routines and methods. Prof. Dr. Fthenakis provided very good input and gave great feedback on the easyfaM methods and routines. We agreed that there has been no training like this for families and training. So, it looks like the easyfaM approach is exactly correct.
Christian found it amazing and a fantastic confirmation for the easyfaM work so far, that gamification will play such a huge role in the future, according to Prof. Dr. Fthenakis. easyfaM uses lots of playlike methods and tools. Therefore, we may place the playful learning more into the foreground. Thank you very much!