30 October 2018
End chaos: Family organisation gets effortless with easyfaM
First insights in testing families, production background and the story, how to relieve for families. The tools and videos contain many methods that relieve everyday family life, give children routine and give them cool playful techniques for life. 
---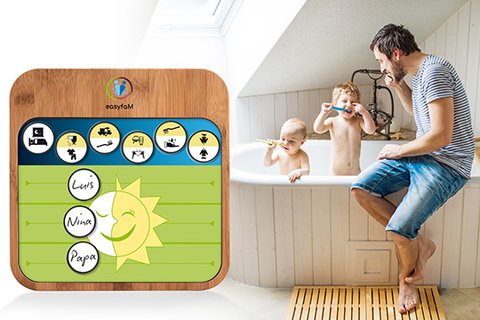 Whether it is the fair distribution of tasks in the household, the morning and evening routine with younger children or the media consumption time with young people - easyfaM offers the opportunity to structure the topics from everyday family life in a meaningful way for all family members. Fairness, communication, motivation and fun are the main focus. "easyfaM brings parents into the loving role of the boss as if by itself: Leadership with a big shot of love is the motto," says Christian Eineder.
For more fairness - also in the manufacturing of easyfaM® products
With clear communication, easyfaM ensures more transparency and fairness in the family organisation. Fair cooperation also plays a decisive role in production conditions. Christian Eineder searched internationally for suitable manufacturers, compared conditions worldwide and jetted to China for personal audits in order to find a suitable supplier for the core element - the easyfaM® Taskboard. "Domestic manufacturers or, for example, the German Lebenshilfe were right at the top of our partner list. The challenge, however, is to offer the easyfaM products at a price that families can afford well and willingly, and still guarantee 1A product quality under fair working conditions," explains Christian Eineder. He followed a recommendation from a friendly entrepreneur and audited a Chinese production site. His conclusion: "Very well process-controlled production, good daylight everywhere, extraction systems and face masks where lacquers and adhesives are used, multiple quality controls in the process, etc.". The materials have been tested for toxins and heavy metals and are free of them. We are very happy to have found this partner". The ideas and prototype developments of the commissioned Ravensburg product designer Stephan Leitl and the local carpenter Kurt Buhmann have been put into series production in China since August. Bamboo is the main material. It is a fast-growing, ecologically sensible raw material that has a beautiful look and feel and is perfect for the products.
Test period comes to an end - online platform starts in November 2018!
The prototypes of the easyfaM® Taskboard, Race and Challenge were tested over a period of several months by different families. Heidi and Christian Eineder organised workshops, answered questions and invested a lot of fresh input from the families in further product development. Together with a large international team, they are currently organizing the production and supply of the series products. During November 2018, the products, tips and videos will be available via the new website www.easyfaM.com including online shop and streaming platform. 
Interested parties who want to stay up to date and be informed about news are already signing up for the newsletter.