26 November 2018
Cool easyfaM family tools based on proven management methods
Parents are often the best coaches for their children! However, parents are nowadays quite involved in their careers and their frequent absence can lead to a lack of routines. Electronic devices complicate the children's process towards personal responsibility. It is not so easy to find room for the essentials in the family during this time. 
---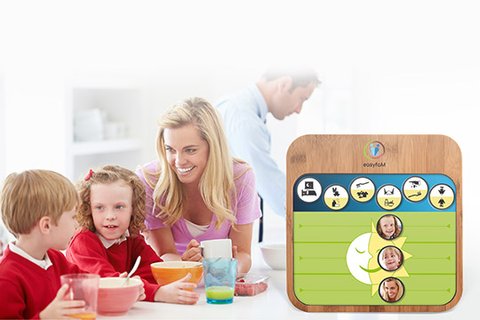 "There is an education for everything, but not for being a parent," says Christian Eineder, founder of easyfaM. "The great potential to use clever tools and methods to experience less arguments, more relief and fun with the family is unused". 
As long-standing executives in international companies, Christian and his wife Heidi use management methods on a daily basis. From their own needs they discovered the potential of agile methods for their own family and developed playful tools that structure family tasks better and thus make everyday life considerably easier.
"First, we tried to make the methods so simple that they understood our children and found them useful. That was the first step," recalls Heidi Eineder. And it worked well. Even so good that friendly families immediately wanted to adopt the model for themselves. The idea of easyfaM was born! With the foundation of their company easyfaM, Heidi and Christian Eineder give families new impulses for a smooth family life together.
This gives the whole family more free time. Instead of repetitive discussions, one is happy about the joint results and has great fun in the playful competition. And children also learn agile working methods, independence and freedom in their personal time management. 
Routines for smaller children: leaving the house on time in the morning without stress 
Have you already washed and dressed? "The lack of morning and evening routines in a family with younger children can often be measured in decibels," says Christian Eineder, smiling. "If we have to correct as parents, quarrels often arise in those moments when we all actually want a relaxed start to the day or a loving evening atmosphere. Exactly for these phases there is now relief for every family."
The process tool easyfaM Race puts the playful attraction for children in the foreground. Step by step, children draw their play figures next to each other and follow the order the parents have set on the coins. Even the argument about the right clothes takes a back seat when the children want to arrive in front of their parents at breakfast. The most critical phases are taken over by the race: the morning and evening routines. In this way the children go to bed lovingly and without quarrels and dream sweetly.
Cool techniques for life - filled with a big shot of love
"Our parents' portal with coaching videos additionally relieves parents with cool methods and effective tips for everyday family life," adds Heidi Eineder, who stands in front of the camera for the videos herself and passes on her management knowledge. In the Coachings it shows beside many other topics together with its son, how a pupil desk is furnished learningoptimized and how one agrees upon an IT-Familienagenda. She gives tips on how to behave well without being old-fashioned, helps with "vocational orientation for young people" derived from future trends, and explains conflict resolution methods without noisy arguments.