Huge discounts and extra guarantee!
Just today! More time. More family. More fortune.
Special offer for new members in the video!
Get all whitepapers for free.
Full money back guarantee.
Your dreams just one click away.
Limited availability! 
.
The potentials
More time. For you, your hobbies, your family, your career.
More family. For the lovely development of your kids, and lifelong development of your lifelong partnership.
More fortune. For the sound development of your career and prosperity.
Agile tools for families relieve working parents (and kids!). You therefore have more energy and time. easyfaM® tools bring modern working methods into family life in a playful way and with great success. Often parents proudly bring these positive experiences to the company and improve their career.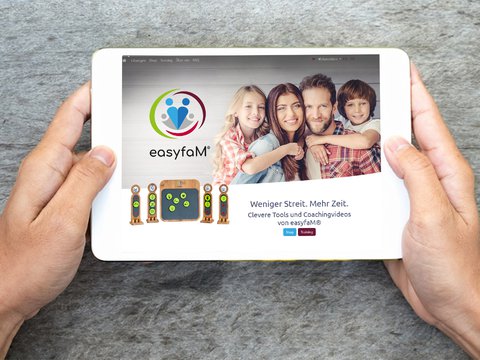 You are just one click away 
Get your login and the one key to the future family.
 
Results: You will have ...
...less hassle with kids and partner
...more time due to the new mechanisms and communication
...more money if you use a share of it for your career
...more equal distribution of roles with your partner and kids
...be a better partner for your employer.
easyfaM Solutions
For families & schools
Agile tools and coaching videos for families.
Speeches and workshops to relieve the school. Given at schools, addressed to parents.
For emloyers
Family-friendly employers are by far more profitable than others. They benefit from 42% less absence days, 38% more job applications and 15% more productivity (study of Federal Ministry of Families, Berlin, 3/2019). easyfaM supports employers to become family-friendly with very little effort, almost with "one click"
easyfaM teaches the digital business competences to working parents, like (among others)
agility,
ability to communicate, give appropriate feedback,
networking
commitment and openmindedness.
The cross-hierarchical approach to all parents in the company, all hierarchies benefit from the learnings. The culture change towards innovation, speed and change becomes natural. More about the potentials and concept here.
XXX
YYY
Ownership/Personal responsibility
Increased work on an ad hoc basis & self-management
Ability to communicate
Increased effective communication between man and machine
Networking competence
Share Economy: Provide knowledge in fluid project structures
Agility
Ability to learn, willingness to change and commitment 
zzz